Stephanie Braithwaite is a blogger and pinup model from Chelmsford, England. She is otherwise known for portraying the Bleeding Heart Emo Ranger. She is also a food blogger.
Personal life
Edit
Stef is a pin up model and blogger, based in London. She enjoys travelling and regularly attends the Las Vegas rockabilly event 'Viva Las Vegas'. She has been to the Rockefeller Center in New York City before, and to Central Park. She has also been to LA, to the Toi on Sunset Thai restaurant. Her twitter and instagram handles are @stephaniejay_uk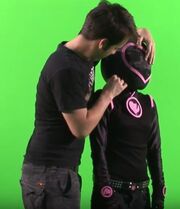 Stef and Vicki had been friends with Chris for a few years prior to Emo Rangers existing. She was only around 17 at the time when Chris came to her to portray a character that was supposed to be about 15. Two years later, she found herself at age 19 portraying a more stylized version of the character - supposedly around 16 or 17 in-universe then. She was prevalent in all of the first season, and in "Weed Better Sober Up" in season 2. She was also more available than most for "Bearly Legal."
She became the focus of "Uncle Cuddles and Fiddles the Kid," as Season 2 featured episodes around each character rather than having everyone featured heavily in every episode.
Stef has been modelling since 2008 and co-runs blog www.forkmypiehole.com. She returned to the role of Bleeding Heart Emo Ranger one last time for the 2015 10th Anniversary Special, but due to a trimmed edit was only around for a few seconds. It is unknown if she has done any acting since then, but her modelling and blogging have kept her busy.
Work outside acting
Edit
As of 2008, Stef has sidelining as a retro and pinup model. She started the blog "Fork My Piehole" in 2014 to document rare food treats from around the world, co-founding it with a friend.
External links
Edit